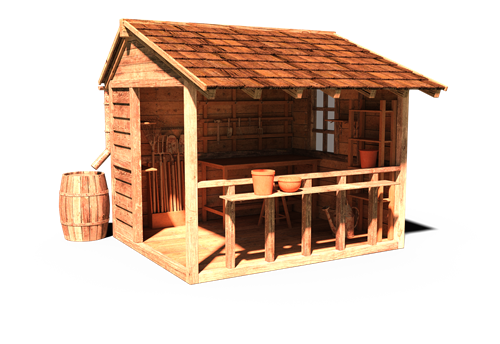 A potting bench can provide you with a place to work on your garden, from starting seeds to grafting and transplanting. Ideally, your bench should be at a comfortable height for you to work at, be sturdy enough to support plants and tools and enhance the look of your yard. You have several options when it comes to creating a potting bench; choose the one that works best for you:
Reinvent an existing piece: Think outside the box and update an existing piece to make it into a potting bench. A fresh coat of exterior paint, some hooks for tools and a few other extras are all you need to convert a piece of furniture to meet your needs. Sideboards, dressers, desks and other pieces of furniture that are sturdy but that have gone out of style are ideal candidates.
Build it yourself: A potting bench is an ideal beginner's building project; a drill, wood screws, hammer and nails are usually enough to make your own potting bench. You do not need to have a saw-- most big box stores will cut lumber to your specifications when asked. A potting bench made from construction 2x4's is sturdy and affordable to make and free plans can be found online from a wide range of sources. If you have some tools, want to develop your skills and make something that is uniquely yours, then this approach will do.
Use a kit: Love DIY, but not sure where to start? You can purchase a kit to make your own potting bench from a variety of sources. Kits come with pre-cut lumber, fasteners and other items to create your own piece; you'll need to decide what finish to use when you are done. A kit combines the ease of repurposing another piece with the customization of a true DIY build.
Before you begin, list out how you'll use the potting bench and what you want it to do. You should also measure the space you want the bench to go and determine the right height for you -- the height will vary depending on your own physical stature and how you like to work. Once you have these details, you can look for peices to repurpose or plans to build from. Give yourself a weekend to complete this project, then expect to enjoy it for years to come.